Revision Bullet Ant Tactical Goggles (1 - 3 Lens Kits)
Revision Bullet Ant Tactical Goggles (1 - 3 Lens Kits)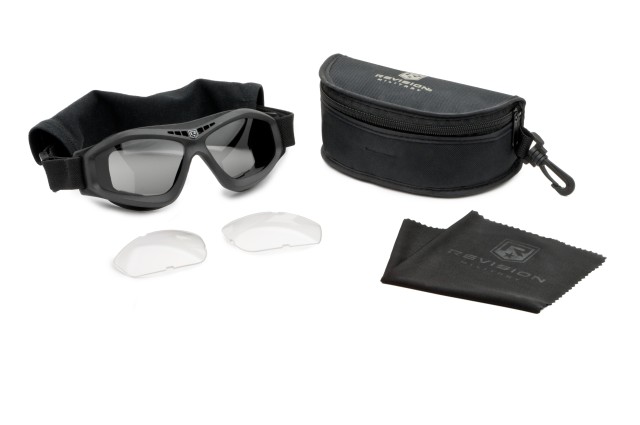 SKU/Code:
Revision Bullet Ant
Stock:
Sold & Shipped by Opa Extreme
Description
MISSION CRITICAL EYEWEAR®
The slim-profile design of the Revision Bullet Ant Tactical Goggle provides optimal facial fit, high-impact protection, wide field-of-view, plus helmet and night-vision gear compatibility. Equally comfortable with the strap worn over
or under the helmet, the hexo-vents permit maximum ventilation, without any adjustment, for fog-free performance and fine particle filtration. Clear, solar and high-contrast lenses allow for visual clarity in various light conditions.
High-impact system exceeds ANSI Z87.1-2010, EN 166 and U.S. military ballistic impact requirements for goggles (MIL-DTL-43511D, clause 3.5.10).
Precision manufactured interchangeable lenses ensure distortion-free vision, full side-impact protection and anti-fog performance.
Robust design and materials protect and perform through all the rigors of combat. Anti-scratch lenses resist a wide range of chemicals, including DEET.
Compact, low-profile design provides unrestricted field-of-view and ensures compatibility with helmet, binoculars and night vision systems.
Pliable frame seals comfortable to face. Adjustable head strap with quick release buckle can be worn over or under helmet.
100% UV protective lenses can be interchanged quickly for various light conditions.
Full frame ventilation and OcuMax coated lenses prevent fogging.
Rx Ready. Ask us for details and pricing. * Most models in stock, but not every colour variation, but can be ordered.
Please Select $15 Shipping on Check out.
See Feature Sheet: http://www.revisionmilitary.com/wp-content/uploads/2015/09/Bullet-Ant-Sales-Sheet-June-2015-US.pdf
* See Video Link for Demo:
Customer Reviews
Similar Products