Revision Sawfly (Various Lens/Frame Options)
Revision Sawfly (Various Lens/Frame Options)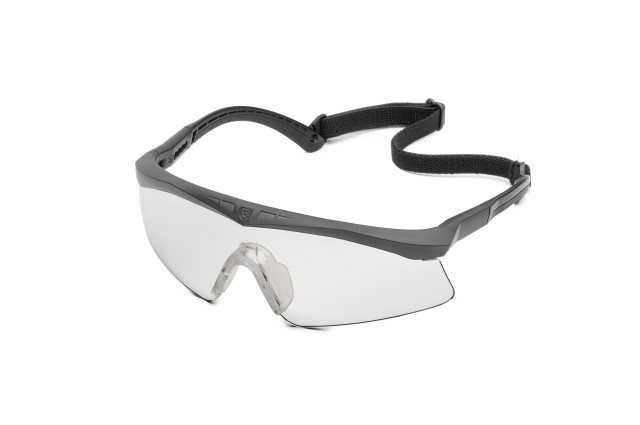 SKU/Code:
Revision Sawfly
Stock:
Sold & Shipped by Opa Extreme
Description
Top performing ballistic spectacle with interchangeable lenses; provides optimal fit, function & comfort.
Precision manufactured lenses ensure distortion-free vision, full side impact protection and anit-fog performance.
Scratch-resisant coating on both sides of lens, resists wide variety of chemicals, including DEET.
Exceeds U.S. military ballistic impact requirements for spectacles (MIL-PRF-31013, clause 3.5.1.1) and goggles (MIL-DTL-43511D, clause 3.5.10).
Exceeds ANSI Z87.1-2010 ballistic impact and optical requirements.
CE certified in accordance with EN 166, EN 170 and EN 172.
Has Adjustable arms to better fit various sizes.
These are available in Sm.-Reg.-Lrg sizes. Regular sizes are models listed, but Just let us know, and we'll order the size you want.
Polarized, Deluxe, Military, & Basic Kits are available in either a Tan or Foilage Green colour frame. Just ask, as all variations are not available as auto order.
All models come w/Head strap and Microfiber cloth. * Photochromic also has a case w/belt clip. * Deluxe, Military and Polarized has all and Re-usable Anti-fog cloth.
Rx Ready. Need a prescription insert ? Ask us and we'll order that model for you. We'll need a current prescription.
* Most Sawfly models are available in Small, Regular & Large sizes.... Some Models are Available in Black, Foilage Green and Tan.
*

Shipping at Only $15 !! Choose such on check out

..…
See Feature Sheet: http://www.revisionmilitary.com/wp-content/uploads/2015/04/Sawfly-Sales-Sheet-March-2015-US.pdf
* Battle Proven !
* See Video Link for Demo:
Max Michael Awesome Shooting - Wearing Revision Sawfly and Pro Ears !
I am 1LT A. A., an Infantry Platoon Leader assigned to B Company, Task Force 2-1 Infantry, 172nd Stryker Brigade Combat Team, currently deployed to Mosul, Iraq in Support of OIF. Our patrol was struck by a massive IED on 28FEB2006, launching shrapnel and debris at high velocities toward the vehicle. I was thrown into the hull of the Stryker and later discovered that my eye-pro, the 'Sawfly' tinted lenses, prevented a shard of shrapnel from contacting my face, saving my eyesight and preventing serious injury. I have attached images of the IED, the eye protection I was wearing on site, and images of the eyewear with the shrapnel. The shrapnel punctured the lens, but did not penetrate. The shrapnel was large enough to dislodge the eyewear from my face and force me into the vehicle. I wore the glasses the rest of the patrol, confident they could still do the job. I now have them stored until I get home. I purchased the Sawfly Deluxe Kit for wear, and whenever someone asks what I was wearing, I am sure to tell them that I was wearing 'Revision'. Thank you for a great tactical product!
Customer Reviews
Similar Products